Services
| | | |
| --- | --- | --- |
| Custom Services: | Use Paypal.me for a specific agreed upon amount. | |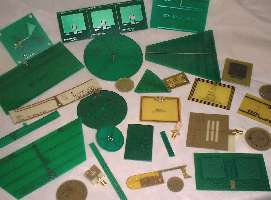 Kent Britain - Senior RF Engineer
Kent Britain has engineered over 1000 specialty antennas for a broad range of applications. Custom Antenna Design services, and limited quantities of highly specialized antennas are available. With a large library of tested designs to draw from, Kent Electronic can save your research and develpment dollars, cut your develpment time and have your antenna in production instead of on the design table.
Antenna testing services are also available.
A few of our antennas
Custom Antennas


Patch Array Antennas
Kent Electronics has produced
Patch antennas from 418 MHz to 60 GHz
. The practical range for PCB patch antennas is between 1.5 GHz and 10 GHz. Thus far we have developed patch arrays up to 16 elements. Options include
Linear Vertical Polarization, Linear Horizontal Polarization, Circular Polarization and MIMO
. Popular in
WiFi
, and
RFID
applications



Log Periodic Antenna



Here are examples of Log Periodic Antennas from 300 MHz to 15 GHz on PC Board. The practical range for PCB LP's is between 700 MHz and 10 GHz. Popular in WiFi, RFID, UWB, and Counter Surveillance applications.




PCB Yagi Antennas



Thus far we have produced PCB Yagi antennas between 400 MHz and 6 GHz. But the practical range for PCB Yagi's is between 700 MHz and 2.5 GHz. Designs from 2 to 9 elements have been developed. Popular in WiFi, RFID, Meter Reading, and other telemetry applications.




Vivaldi Antennas

Here are examples of Vivaldi Antennas from 900 MHz to 35 GHz. Their practical frequency range is between 3 GHz and 25 GHz. In receive only applications, Low Noise amplifiers are easily included in the antenna artwork. Popular in UWB, Dish Feed, and Counter Surveillance applications.






Other Antennas



Other antennas produced run a wide range of antenna designs. From Spiral Antennas, to Vivaldi, to Scimitar antennas for wide bandwidths. To DDRR, Wheels, Inverted F, Loops, and even slot antennas for narrowband applications. Yes, we have worked with Fractal Antennas, but their field testing has not lived up to their hype. And while a Log Periodic does meet the definition of a Fractal Antenna, we do not have any other Fractal Antennas in production.





Other Circuits

Low Noise Amplifiers, Notch Filters, and even Diplexers or Pass band filters can be added to the antenna artwork.



PCB Materials
Most of our work is on low cost PCB materials, however specialized materials with Er's from 1.2 to 10.4 and lower loss tangents can be used.

The Business Side:

Company Names, Logo's and Part Numbers can be incorporated into the PCB artwork.
With an internally developed library of over 1000 PCB antenna designs, you will find our
development time very short and our prices very competitive.

After the initial development PCB runs, we offer competitive prices on production runs.